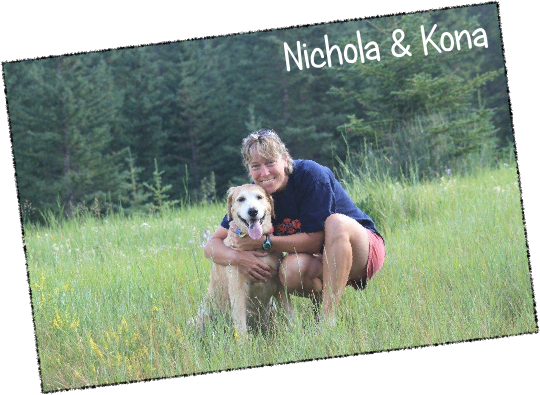 Nichola – Living My Dream
A Bark Above Dog Walking and Pet Services is currently owned and operated by Nichola McMurray and her two dogs, Brodie and Levi.
Recently, I realized that I was not living my dream. I had a good career with RCMP but, something was missing. Prior to working with RCMP, I played a lead role in developing the Dog Management Program at Pacific Spirit Regional Park in B.C. For over 4 years, I had taken my dog Kona with me to work. Kona assisted me with educating dog owners on proper etiquette in Parks and won over all the Parks staff. When I changed career and was working with RCMP, I realized, I could no longer compromise my dog's health for my career. The long hours with RCMP did not allow me to spend time with Kona and she was depressed and so was I. I moved to Calgary in April of 2010 and was working in Parks again but, there was still something missing. I realized that my true passion is with animals and I left Parks to pursue my dream of owning and operating A Bark Above Dog Walking and Pet Services.
Over the past 30 years, I have been the proud owner of various dogs and cats. I currently own 2 dogs; Brodie, a 5 year old Golden Retriever/Collie X rescue dog from Misty Creek Animal Rescue who we adopted in December 2011 and Levi, a 2 year old Lab X mix from AARCS who we adopted in June 2016.
I am passionate about animals and their care and I look forward to working with you to help you create a well balanced dog and developing an exercise plan tailored to your pets needs. I am fully insured and certified in Pet First Aid.
I believe in creating a leadership role with your dog and with training, exercise and socialization can create a healthy balanced pet. A dog that is exercised regularly is much happier and is less likely to suffer from behavioral problems. An active pet is a healthy pet!
I have also owned cats for most of my life and look forward to spending more time with my furry feline friends.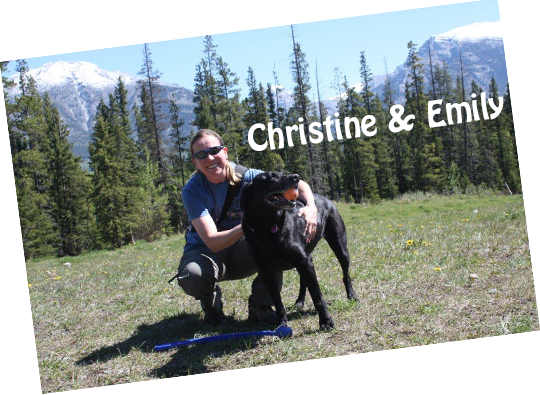 Christine
Prior to joining Nichola at 'A Bark Above Dog Walking & Pet Services' I had a varied background. I have a degree in Teaching (BE.d) and worked as a substitute teacher for 4 years. I have worked in a hospital setting as a unit clerk and I've also worked as a constable with the Royal Canadian Mounted Police (retired).
While I have learned a great deal from all of these professions, not one of them gives me the happiness or quality of life I have found since working with Nichola at 'A Bark Above'. I have always loved dogs and finding a profession where I can care for and help dogs all day is simply quite amazing. Being able to do this type of work truly does fill my heart and life with joy. There is nothing like the attention a dog shows you when they are happy to see you and enjoy just being with you.
I am a proud owner of two dogs – Brodie a 5 year old (golden/collie X) from Misty Creek Animal Rescue in December 2011, and Levi a 2 year old rescue (lab mix, not sure what else) from AARCS in June 2016. As far as I am concerned a life is not a life without a dog!
I decided to join Nichola in the business to help make a difference in this industry and to offer pet owners a service that is trustworthy, reliable and one that far exceeds their expectations. I take a great deal of pride in what I do and value honesty, integrity and respect. Being able to help dog's live healthier and happier lives through the service we provide is what puts a smile on my face and pride in my heart. I know a lot about pet nutrition and strive to help owners understand the ingredient lists on their pet's food and treats so they can make healthy choices for their pets. As a pet owner you should be able to feel confident in knowing your furry family member is in good hands. You can be assured that we will treat your pet as it if were our own.
"A house is not a home without a pet"